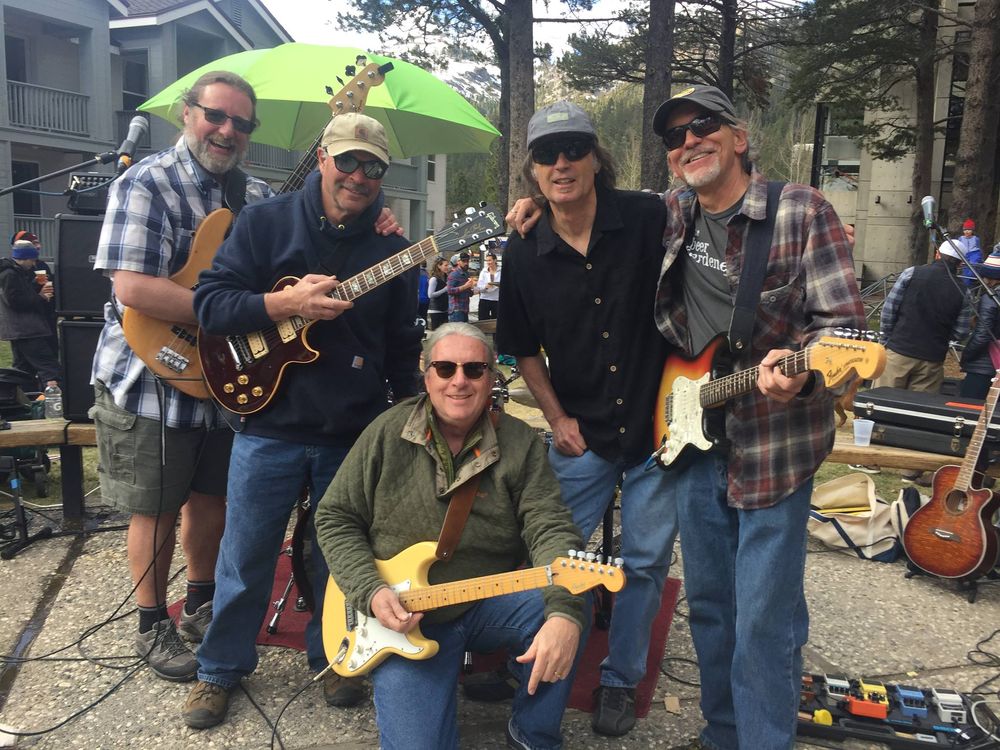 A Brief History of The Beer Gardeners
In early January, 1991, Eric Brandt, who, at the time, owned and operated the Photo & Video concession at Squaw Valley, sat down with fellow concession owner, Jean Hagan, the operator of the the bar and restaurant concessions in the legendary Olympic House at the base of the mountain. The subject was bringing live music back to the Beer Garden. The answer was yes. 
Today, nearly thirty years later, the loosely organized and still-unrehearsed bar band for Squaw Valley's legendary and now defunct watering hole, the Beer Garden, continues to enjoy entertaining enthusiastic North Tahoe happy hour revelers and music-lovers. "
It's a continuing experiment," says co-founder and singer/songwriter and guitarist Eric "Eric T." Brandt. "Since day one our strict no-rehearsal policy has held fast, and as a result we're still together."
From the early 90's through today, the band could be seen playing regularly at many of Tahoe's then-favorite spots, including Olympic Village Inn (OVI), Plaza Bar, Bar One, Rosie's, Lakehouse Pizza, Humpty's, and Le Chamois as well as at a slew of private parties, weddings and special events. Over the years, the frequency of shows has thinned (along with some of the band members' hair) but the energy and antics have remained in tact. "Not unlike 'Tap' (Spinal Tap), we've played our share of job fairs, weddings and community dances," recalled lead guitarist andc o-founder Blake Beeman in prior to his tragic and untimely death in 2014. "But, true to the original idea, every time we get together, no matter where it is, it's a rockin' good time."  
Known for tying together random classic songs into long medleys, spontaneous wardrobe changes, and ad-hoc, ten-minute tambourine and shaker solos, The Beer Gardeners have weathered the test of time. With the never-ending 'Beer & Peanuts Tour' showing no signs of slowing, they plan to continue pounding out their familiar mix of classic rock interpretations and new and well-worn originals for as long as they can stay awake.